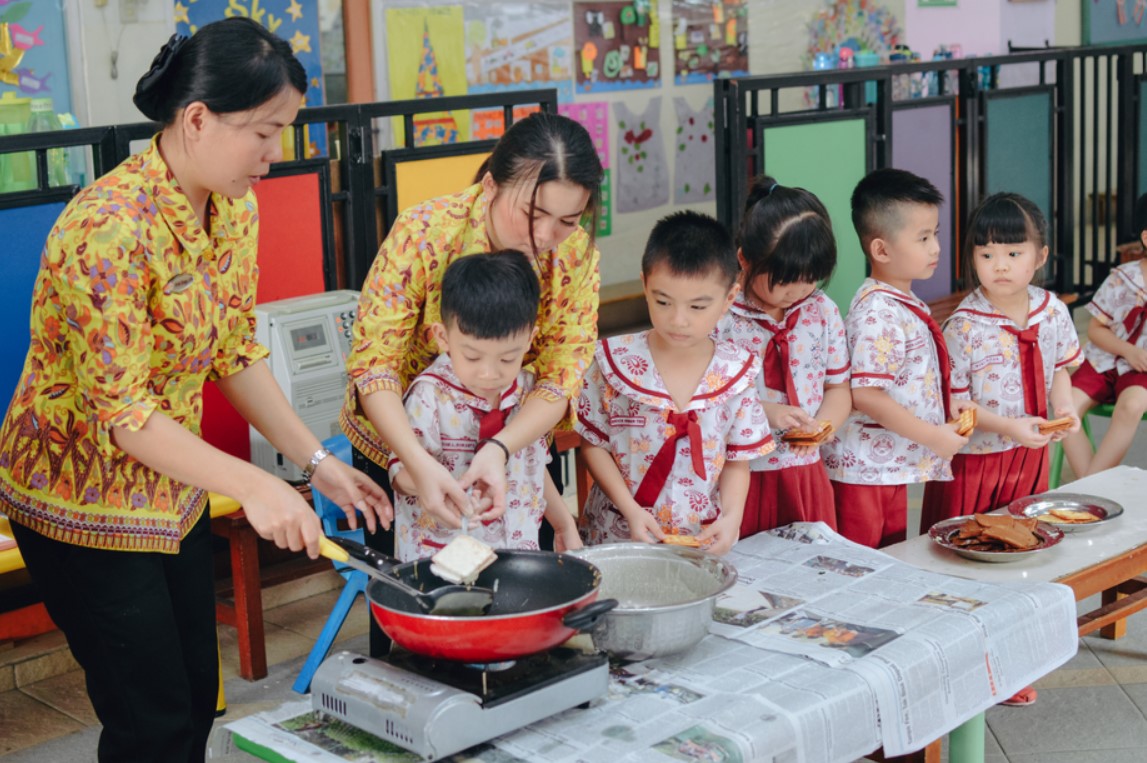 Pembelajaran Kontekstual TK (Proses Makanan - Kue Keranjang)
22 January 2020
---
Pembelajaran kontekstual, semua murid nursery, TK A, dan TK B diperkenalkan cara memproses makanan dengan bahan dasar kue keranjang (makanan tradisi Tionghoa dalam rangka merayakan Imlek). Kue ini memiliki makna yang terintegrasi dengan pendidikan nilai-nilai kemanusiaan yaitu rasanya manis melambangkan ucapan, pikiran, dan tindakan senantiasa harus baik (manis) serta tekstur yang lengket melambangkan persaudaraan yang erat sesama manusia.
Lezatnya olahan kue keranjang dengan apitan roti kering (crackers).


In contextual learning, all nursery students, kindergarten A, and kindergarten B were introduced to how to process food using Nian gao (Chinese New Year's cake). This cake has a meaning which is pregnant with human values education, ie. the sweetness taste symbolizes speech, thoughts, and actions must always be good (sweet) and sticky texture symbolizes the close brotherhood of fellow human beings.
Delicious processed nian gao with a crust of bread (crackers).

Link to news in Instagram: https://www.instagram.com/p/B7sN0nNnSNz/?utm_source=ig_web_copy_link

Link to news in Facebook: https://www.facebook.com/permalink.php?story_fbid=193843305332546&id=108053033911574

« Back to Latest